Since it Can't Squash the May Day Protest, NYC Is Trying To Hide It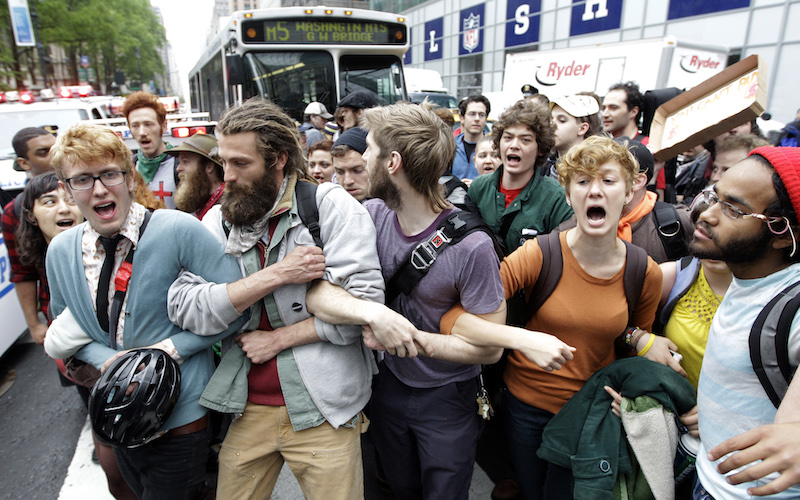 Act.tv is planning on live streaming this year's May Day rally where, on May 1st, thousands of people will gather to protest in support of worker's rights, migrants, Muslims, the LGBTQ community, the Black Lives Matter Movement, union rights, and in opposition to racist police repression and all U.S. wars. We will be streaming this protest at 4 p.m. EST on our facebook page, facebook.com/actdottv, that is, if we can find it!
One week before this rally, which has been happening every year at the same spot on the same date for over 100 years, NYC denied organizers their permit. Claudia Pepe, Director of Special Events and Permits for the NY Parks Service, said the permit was denied due to heavy construction on the 14th Street Union Square plaza location. Some nice folks went there and took photos and videos documenting that there is no construction going on anywhere in the park.
This year protesters are relegated to the back of the park, where no one will see them.
Sara Flounders of the International Action Center points out that the permit denial is a clear violation of the constitutional right to assemble in public places. "In the age of Trump such arbitrary abuse of bureaucratic authority should be challenged. It is part of the climate of raids, round-ups and growing police repression and militarization."

Is dissent in general and/or May Day specifically being criminalized and marginalized? Nina Macapinlac, an organizer with the International League of Peoples' Struggle, reminds us of the unwarranted and intimidating police presence at last years rally and march.
Apparently Women's Marches, Science Marches, and Gun Control Marches don't threaten the status quo as much as movements of solidarity among workers. There is great pressure to keep hidden the truth that great power lies in groups banding together for the common good. If you can't attend this march or a sister march near you, tune in to the live coverage here!